"Play is often talked about as if it were a relief from serious learning. But for children, play is serious learning. Play is really the work of childhood." –Mr. Rogers
We are lucky to have so many great playgrounds and parks in Douglas County and surrounding areas to explore. From swings and slides to climbing walls and water features, our parks and playgrounds keep my kids active, and are a great place to meet old friends — and make new ones!
Following is a list of some of our favorite parks in Douglas County, as well as a few outside our local area that we like to visit at least once a year. Several have splash pads, making them the perfect destination for summer's hottest days! Locations are listed alphabetically.
Want to find out about more Douglas County parks and playgrounds? Visit the Parks and Playgrounds section of our Business Directory!
---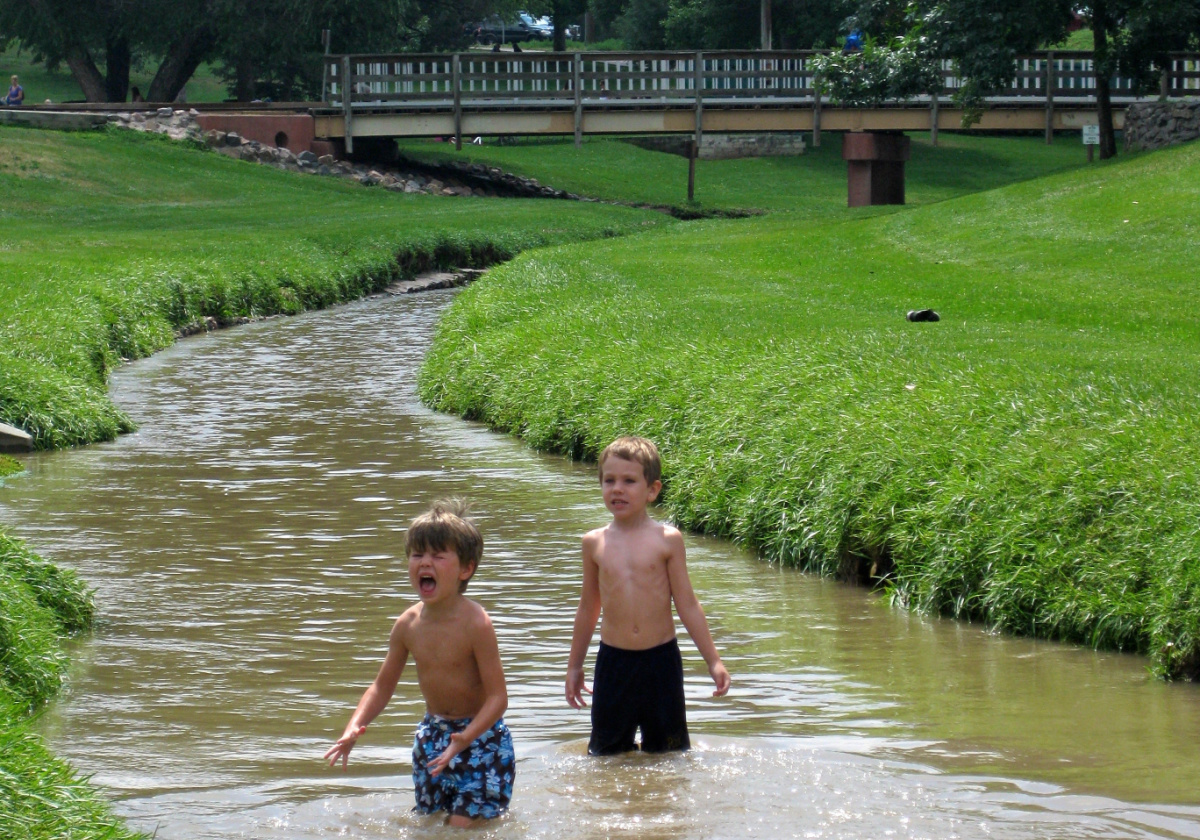 Belleview Park
5001 S. Inca, Englewood
What we love about Belleview Park: Located next to Pirates Cove, it's known for the Englewood Farm & Train (both are $2.50 per person and open daily throughout the summer). It also has two playgrounds with a covered picnic area, plenty of room to run around, and a shallow creek filled with wading children. You'll want to have two pairs of shoes for each person when you visit this park: closed-toe shoes for the farm and water shoes for wading.
Amenities: Park shelters, picnic area, playground, restrooms, basketball court, ball field, tennis courts, stream, and trails.
---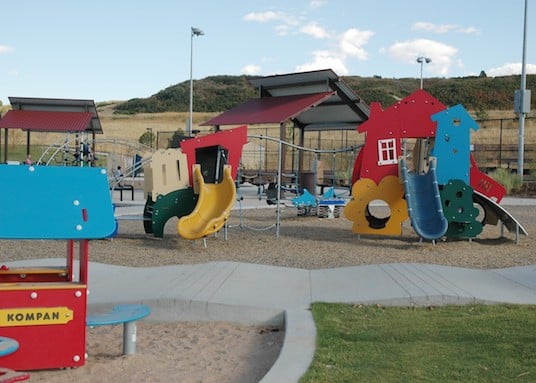 Bison Park
1390 Clear Sky Way, Castle Rock
What we love about Bison Park: It has a covered picnic pavilion, a large playground with a variety of structures suitable for kids of all ages, and synthetic turf fields. Bring lots of sunscreen and lots of water as there is very little shade on the playground other than the pavilion.
Amenities: ADA-accessible, multi-use court, pavilions, playgrounds, portable restrooms, synthetic turf fields, lighted tennis courts, and paved trails.
---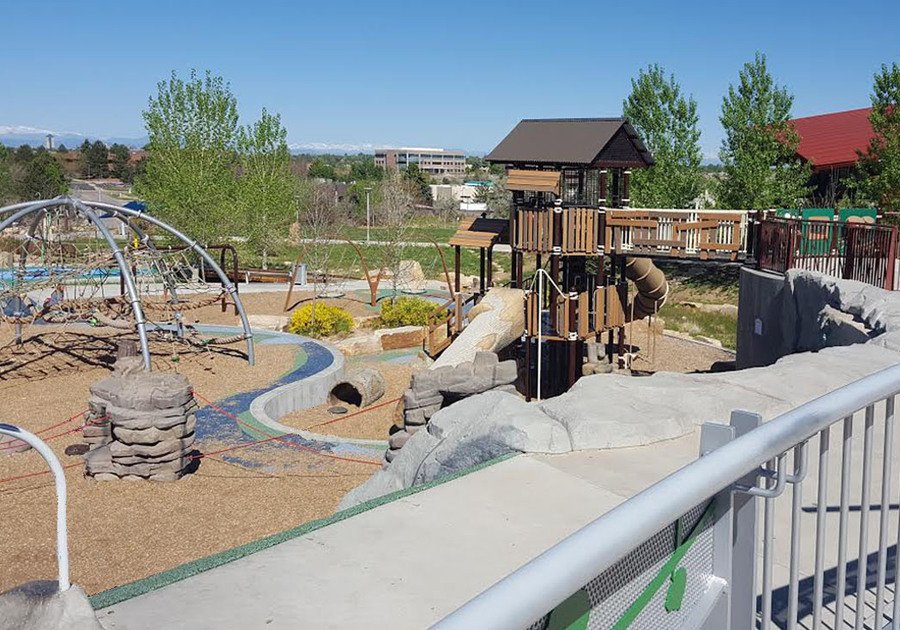 Centennial Center Park
13133 E. Arapahoe Rd., Centennial
What we love about Centennial Center Park: There are several playgrounds for children of all ages, educational and historical information about the state of Colorado, a large grassy field, two covered picnicking areas, and a massive splash pad. Since the park opened, it has been one of the most popular in the area and the different levels can make it a little hard to keep track of more than one child. Just play together and stay together, and you will have a great time!
Amenities: Amphitheater, barbeque grills, bike paths and racks, covered shelter, gas fireplace, picnic tables, playground, splash pad, restrooms, and walking trails.
---
Civic Green Park
9370 Ridgeline Blvd., Highlands Ranch
What we love about Civic Green Park: There are TONS of family-friendly events all year round, from festivals to the annual ice cream social to cultural performances. Located next to the James H. LaRue Library, the park has a wonderful playground, a small manufactured creek running next to the playground, fountains for splashing in to stay cool, and a stage.
Amenities: BBQ grills, drinking fountains, picnic tables, playground, restrooms, shelter/pavilion, and water features.
---
Clement Park
7306 W. Bowles Ave., Littleton
What we love about Clement Park: Clement Park hosts a variety of events, including the Colorado Irish Festival in July and the Summerset Festival in September. This park has something for everyone — three playgrounds, a skate park, tennis courts, basketball courts, horseshoe pits, trails, and a 60-acre lake with a stroller-friendly walking path around it. And if an afternoon shower comes in, the library is adjacent to the parking lot.
Amenities: Batting cages, concession stand, Grant Amphitheater, horseshoe pits, inclusive playground, lake, lighted trails, multi-use fields, picnic shelters, restrooms, sandpit volleyball courts, skate park, smaller play structure, softball fields, splash park, splash park shelters (reservations are required), tennis courts.
---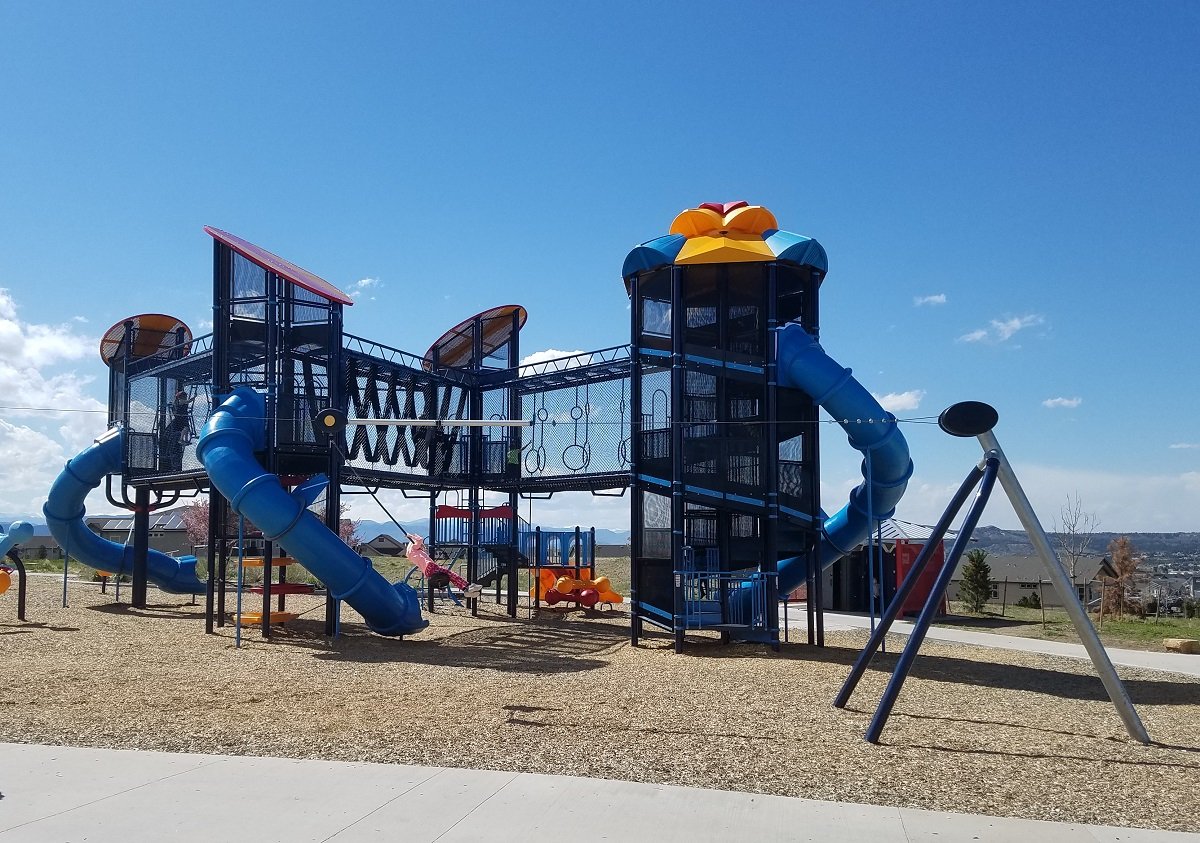 Deputy Zack S. Parrish III Memorial Park
2020 Fiddle Rd., Castle Rock
What we love about Deputy Zack S. Parrish III Memorial Park: This park is enormous (covering 5.5 acres) with a 3-story enclosed play structure, zipline, multiple climbing structures, a percussion area, and a younger child's play structure you can spend hours without getting bored. The 3-story playground is big enough for even those who are young at heart.
Amenities: ADA-accessible, bocce ball courts, cornhole boards, multiuse court, paved trails, pavilion, pickleball courts, two playgrounds, portable restroom, synthetic-turf area, and paved trails.
---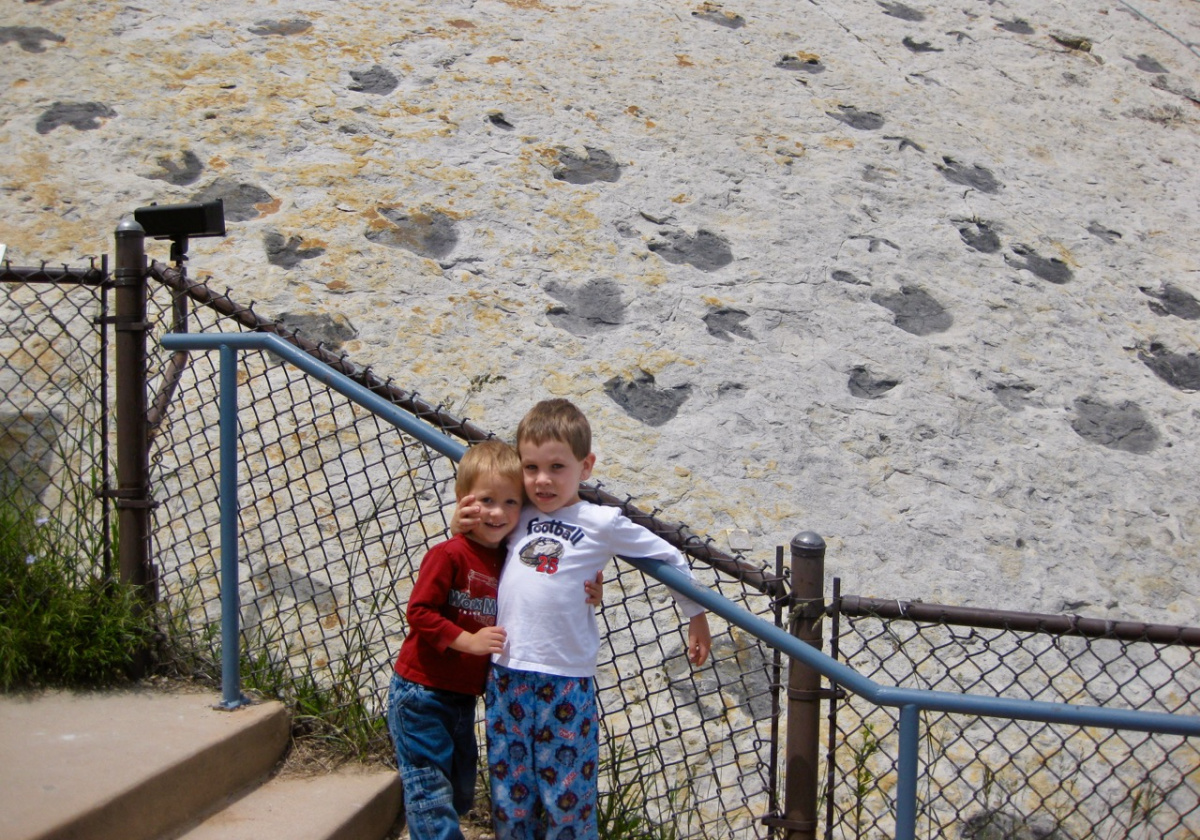 Dinosaur Ridge
16831 W. Alameda Pkwy., Morrison


What we love about Dinosaur Ridge: THE place to go if you've got a dino fanatic in the family. Dinosaur Ridge Trail has more than 15 marked fossil sites, including an area with more than 300(!!) dinosaur footprints. Follow it up with a trip to Morrison Natural History Museum, and your kids will think they're in Dinosaur Heaven!
Amenities: Discovery Center, Visitor Center, restrooms, kid-friendly trails, dig pit, bus tours ($10-$15/person).
---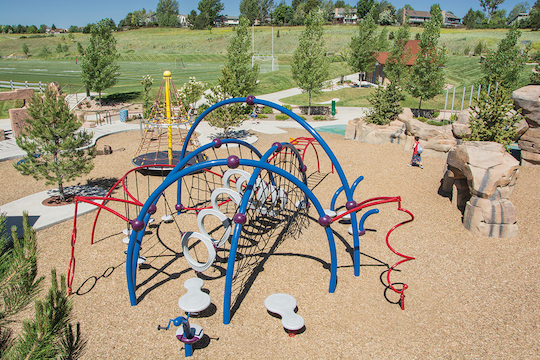 Elk Ridge Park
7005 Mira Vista Ln., Castle Pines
What we love about Elk Ridge Park: 360-degree views of the plains and foothills, an educational scavenger hunt, a large playground with a two-story slide, and a fun splash pad. Even though it's in the midst of the "burbs," the park has a wonderfully natural setting and feel to it.
Amenities: Maze, pavilion, playground, portable restrooms, rock climbing area, scavenger hunt, splash pad, turf field.
---
Hudson Gardens
6115 S. Santa Fe Dr., Littleton
What we love about Hudson Gardens: Well-known for its summer concert series. Its regional display gardens — including the Plant Zoo with Porcupine Grass, Ostrich Fern, and other "animals" — showcase plant life that grows well in the Rocky Mountain Region. Two of our favorite features are the miniature Garden Railroad (for viewing, not riding) and the Water Gardens with giant lily pads and scores of tiny frogs. Borrow a Family Explorer Pack and wear comfortable walking shoes.
BONUS: Hudson Gardens used to require paid admission but is now FREE (donations gratefully accepted).
Amenities: Visitor Center, restrooms, and 30 acres of trails and gardens.
---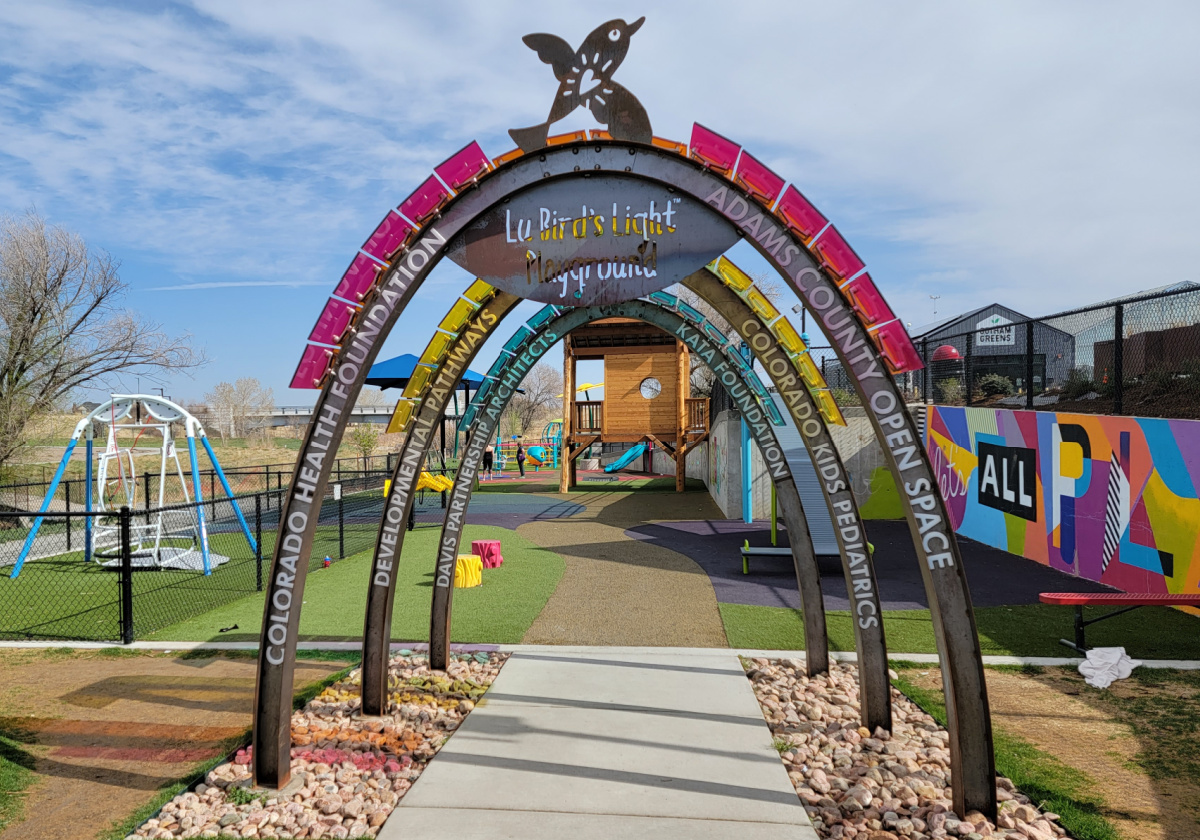 LuBird's Light Playground
Stanley Marketplace, 2501 N. Dallas St., Aurora
What we love about LuBird's Light: This one-of-a-kind state-of-the-art inclusive playground is so much fun for children and parents of all capabilities. this vibrantly-colored park includes all types of accessible swings, slides, and spinners. They have also included sensory play equipment and smooth barrier-free surfacing. It was like nothing we'd ever experienced before.
Amenities: ADA-accessible and stroller-friendly, picnic tables, bike racks, restrooms and food options inside Stanley Marketplace.
---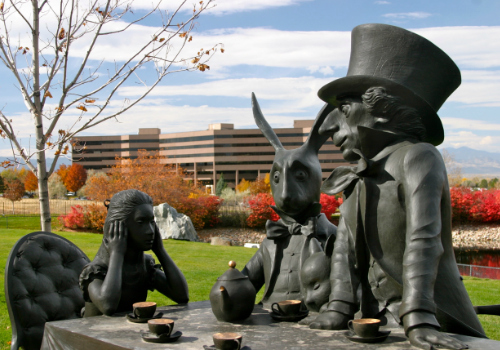 Marjorie Park
Greenwood Plaza Blvd. and E. Caley Ave., Greenwood Village
What we love about Marjorie Park: Marjorie Park isn't very big and doesn't even have a playground or a splash pad. So why is it on our list of favorite parks? Because it has incredible, gorgeous, life-size sculptures of the characters from Alice in Wonderland, including a huge one of the Mad Hatter's Tea Party. Enter from the parking lot and follow the path to see the White Rabbit, the Caterpillar, and others presented in the same order that Alice met them. Make your visit extra special by bringing cupcakes with "Eat Me" labels, or use cookie cutters to make bread-and-butterflies.
NOTE: Marjorie Park is on the north side of Fiddler's Green Amphitheater, so check the concert schedule to avoid closed streets and parking issues.
Amenities: Paved walking trails, restrooms, benches.
---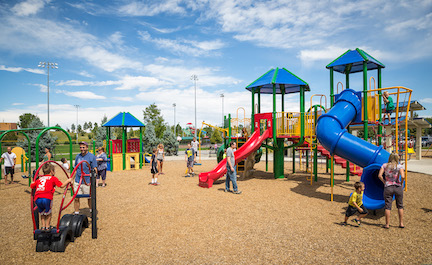 O'Brien Park
10795 Victorian Dr., Parker
O'Brien Park Playground is undergoing improvements to the playground. The construction is anticipated to take place from May through October 2022. We will update this section once it is completed and reopened to the public.
---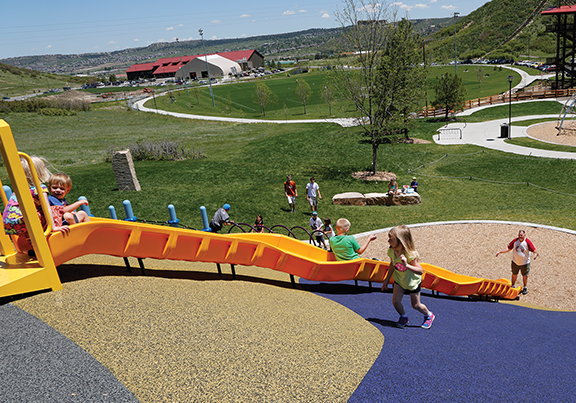 Philip S. Miller Park
1375 W. Plum Creek Pkwy., Castle Rock
What we love about Philip S. Miller Park: This 300-acre park has something for EVERYONE... great hiking trails, a large playground, the Challenge Hill outdoor staircase, and more. We can (and have) spent an entire day at this park. If the weather turns sour or gets too hot, we head inside to the Miller Activity Complex (the MAC) to jump on the trampolines or swim indoors.
Amenities: Outdoor amphitheater, Miller Activity Complex, Challenge Hill outdoor staircase, adventure playground, interconnected trail network, synthetic-turf field, concrete pathways, picnic pavilions, restrooms, splash pad, and plaza area with outdoor fireplace.
---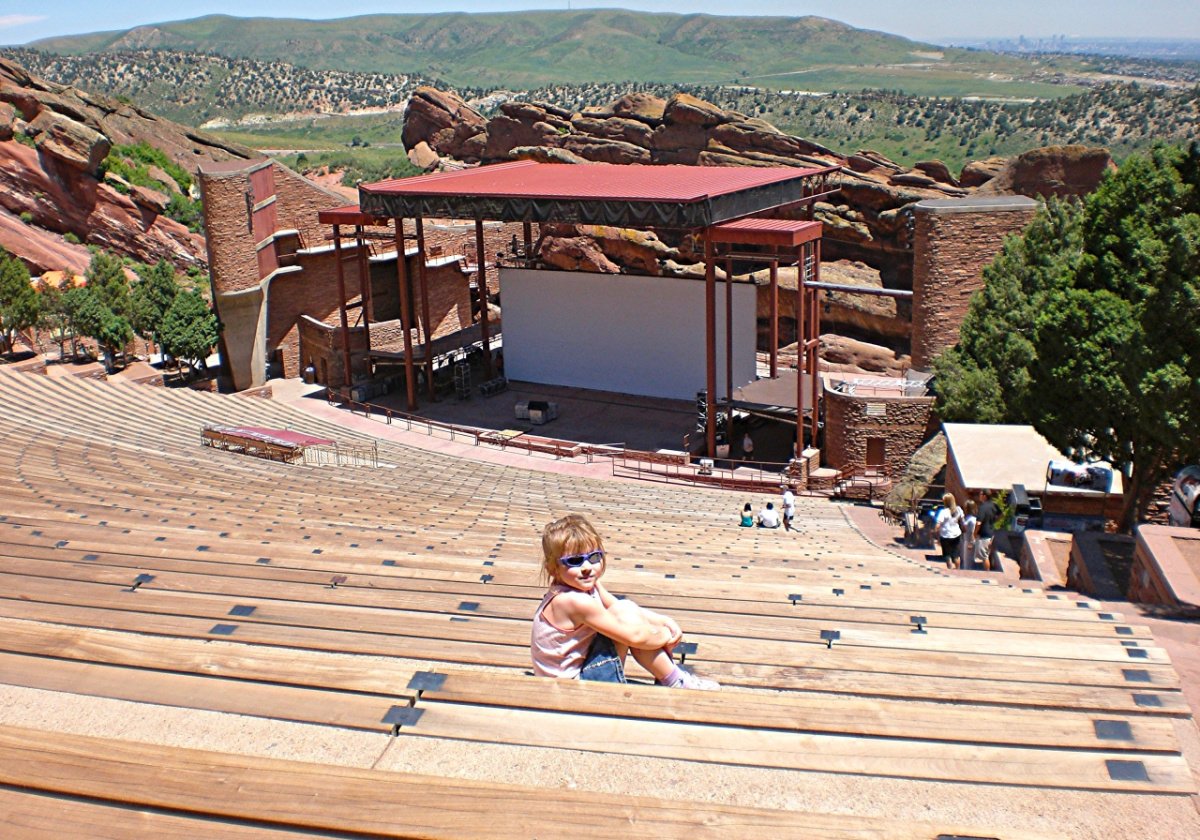 Red Rocks
18300 W. Alameda Pkwy., Morrison
What we love about Red Rocks: Red Rocks is famous worldwide for the Amphitheatre, the only natural geologically formed open-air theater in existence. The beautiful setting, various trails with breathtaking views, and impressive sandstone monoliths make it an extraordinary place to spend the day. The Visitor Center has a variety of educational exhibits and pamphlets on nearly every tourist destination in Colorado.
Amenities: Hiking trails, amphitheater, restrooms, breastfeeding area, Visitor Center.
---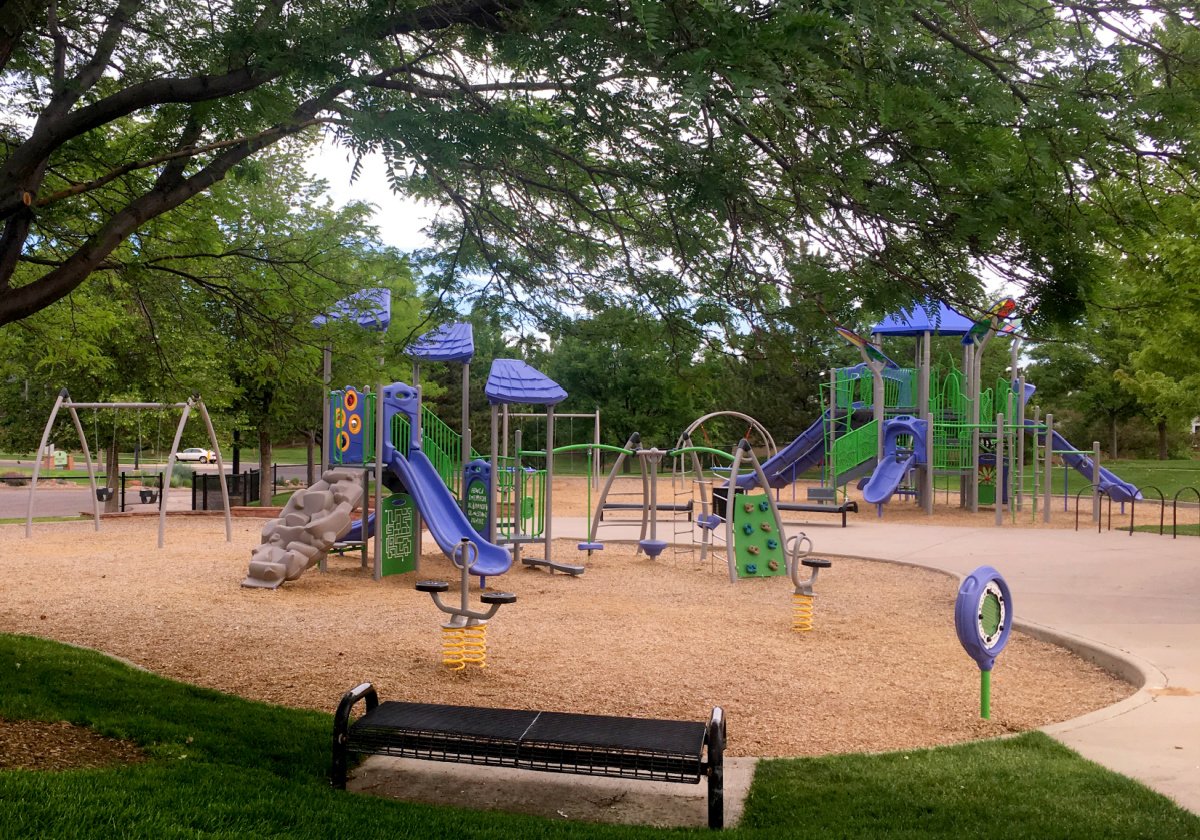 Redstone Park
3280 Redstone Park Cir., Highlands Ranch
What we love about Redstone Park: Redstone Park has a skate park (fun for skating or just watching), baseball fields, tennis courts, covered picnic tables, and a fun playground with a sand table.
Amenities at Redstone Park: Batting cages, BBQ grills, dog park, drinking fountains, picnic tables, playground, restrooms, sand play area, shelter/pavilion, skate park, sports fields, and tennis courts.
---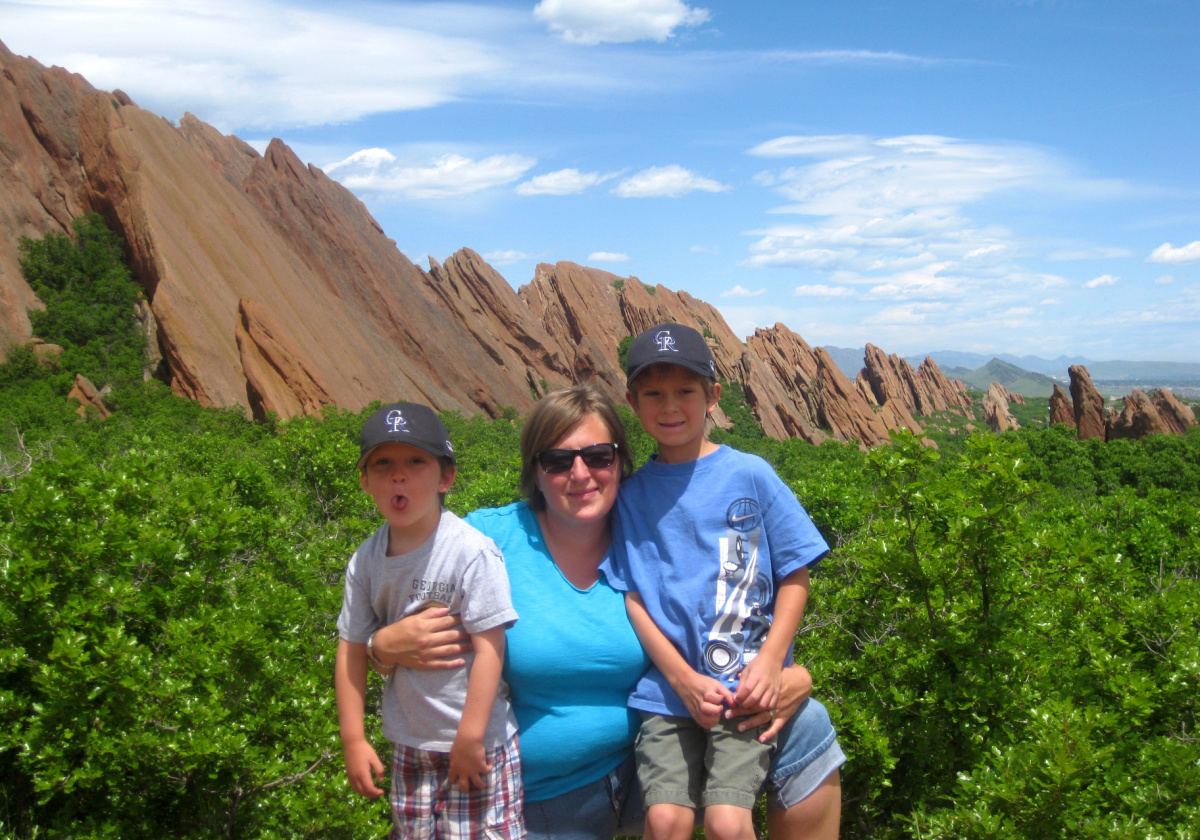 Roxborough State Park
4751 E. Roxborough Dr., Littleton
What we love about Roxborough State Park: Filled with spectacular red-rock formations that are just as beautiful in the winter as in the summer. It has an educational Visitor Center, kid-friendly hiking trails, and Junior Ranger programs year-round (reservations required). Friends of Roxborough sponsor events and programs for all ages, including moonlight hikes and summer concerts.
NOTE: As a State Park, you must have an annual or daily Parks Pass to enter.
Amenities: Amphitheater, hiking trails, Visitor Center, restrooms.
---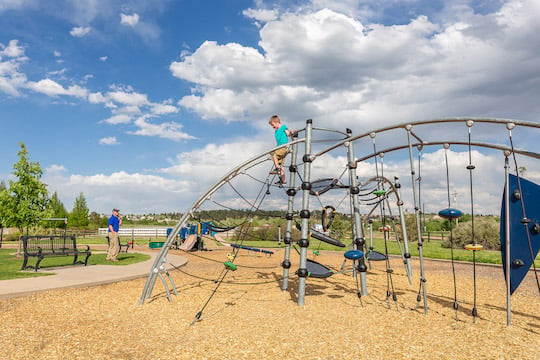 Salisbury Park
11920 Motsenbocker Rd., Parker
What we love about Salisbury Park: In addition to the baseball fields and equestrian complex, there are two playgrounds, one of which is completely ADA accessible, with a multi-purpose field and access to the Cherry Creek Trail.
Amenities: Batting cages, BBQ grills, horseshoe pits, multi-purpose fields, pavilions, playgrounds, restrooms, and water fountain.
---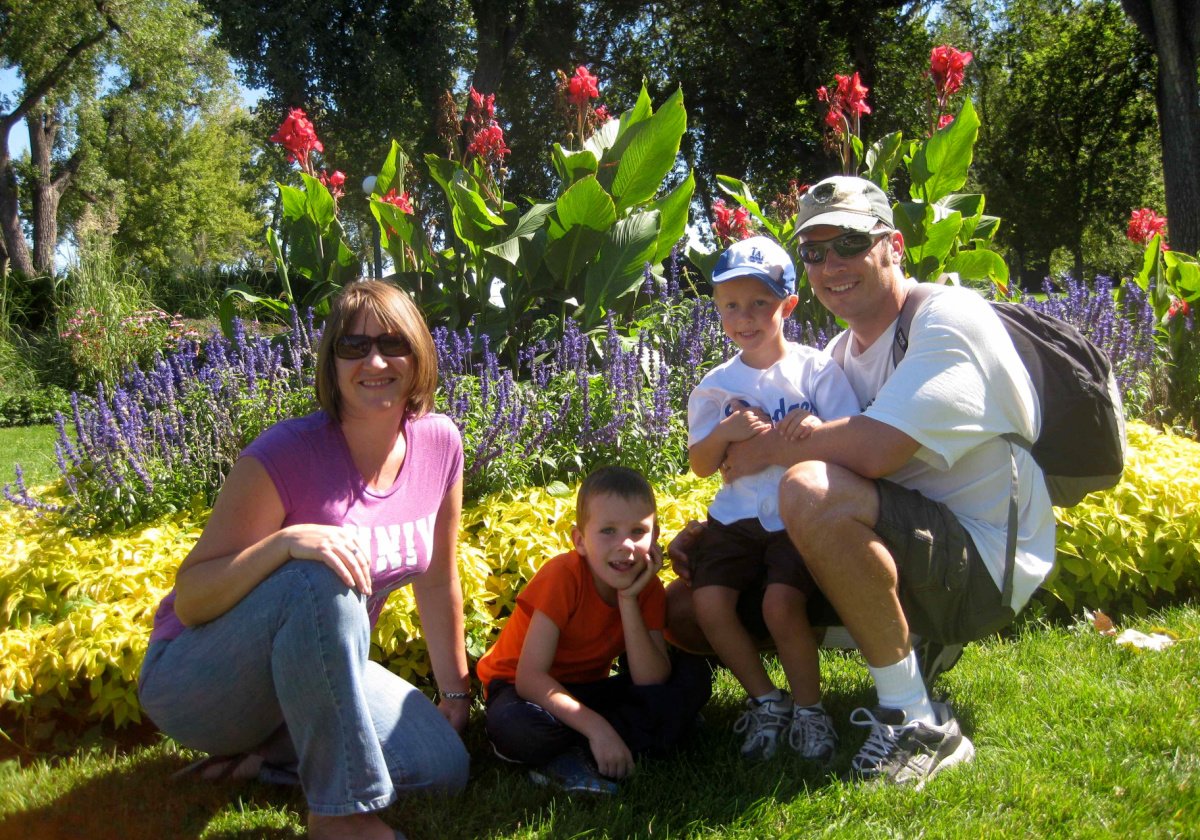 Washington Park
S. Downing St. and E. Louisiana Ave., Denver
What we love about Washington Park: My favorite feature is the flower garden, which is replanted every Memorial Day weekend, so it is "new" each summer. One of the three largest parks in the Denver park system, Wash Park also has a great playground, a large field frequently filled with volleyball nets, walking and biking paths, soccer fields, basketball courts, and tennis courts. Smith Lake has a paved walking path around it, or you can rent a kayak, canoe, or pedal boat.
Amenities: Playground, large field, walking and biking paths, soccer fields, basketball courts, tennis courts.
---
Westlands Park
5701 S. Quebec St., Greenwood Village
What we love about Westlands Park: A hidden gem. It has a HUGE playground area, a two-story treehouse, a giant sculpture of two hands holding a rock (and usually several kids perched atop it), a manufactured lake, an inline hockey rink, paved and unpaved walking paths, and a splash pad. The playground area has very little shade but it also had the best-maintained bathrooms of all the parks we visited.
Amenities: Playgrounds, multi-use playing fields, musical instruments, interactive water feature, pond, hike/bike trail, charcoal grills, restrooms, pickleball courts, and basketball court.
---
Get a FREE kid-friendly calendar for Douglas County, CO, full of festivals, activities, and events delivered right to your inbox when you sign up at highlandsranch.macaronikid.com/subscribe.

Macaroni KID Douglas County is a free weekly e-newsletter, online calendar, and website proudly serving families in Highlands Ranch, Castle Rock, Lone Tree, Parker, Castle Pines, Sedalia, Larkspur, Franktown, Elizabeth, Louviers, and surrounding areas.