Avast, me hearties! September 19 is International Talk Like A Pirate Day, and we've got some great ideas to help you celebrate. Most require hardly any planning at all!
1.) First, determine your pirate name by answering a few questions at www.piratequiz.com.
2.) Learn a few simple pirate phrases and use them often throughout the day. Here are some basic translations to get you started:
Ahoy Mateys/Hearties! (Hello friends!)
Shiver Me Timbers! (OMG!)
Avast Ye! (Check this out!)
Blimey! (OMG!)
Heave Ho! (Give it your best effort!)
Blow Me Down! (OMG!)
Weigh anchor and hoist the mizzen! (Let's go!)
Scallywag (mild insult)
Son of a Biscuit Eater (bigger insult)
Landlubber (a non-pirate)
3.) Head to Pirate Fest 2021 this weekend. Pirate Night on Friday (for "mature pirates") will include music, sword fighting, food and drink vendors, the crowning of the "Pirate King," and more. On Saturday, the all-ages Pirate Festival will include food and booth vendors plus all of the yummy pirate drinks (rum, mead, and beer), mermaids, crafts, bounce houses, Piratical demonstrations, character appearances, and more! Admission is free on both days.
4.) Challenge your brain. Download and print our free "Talk Like a Pirate Day" word search. You can also play online.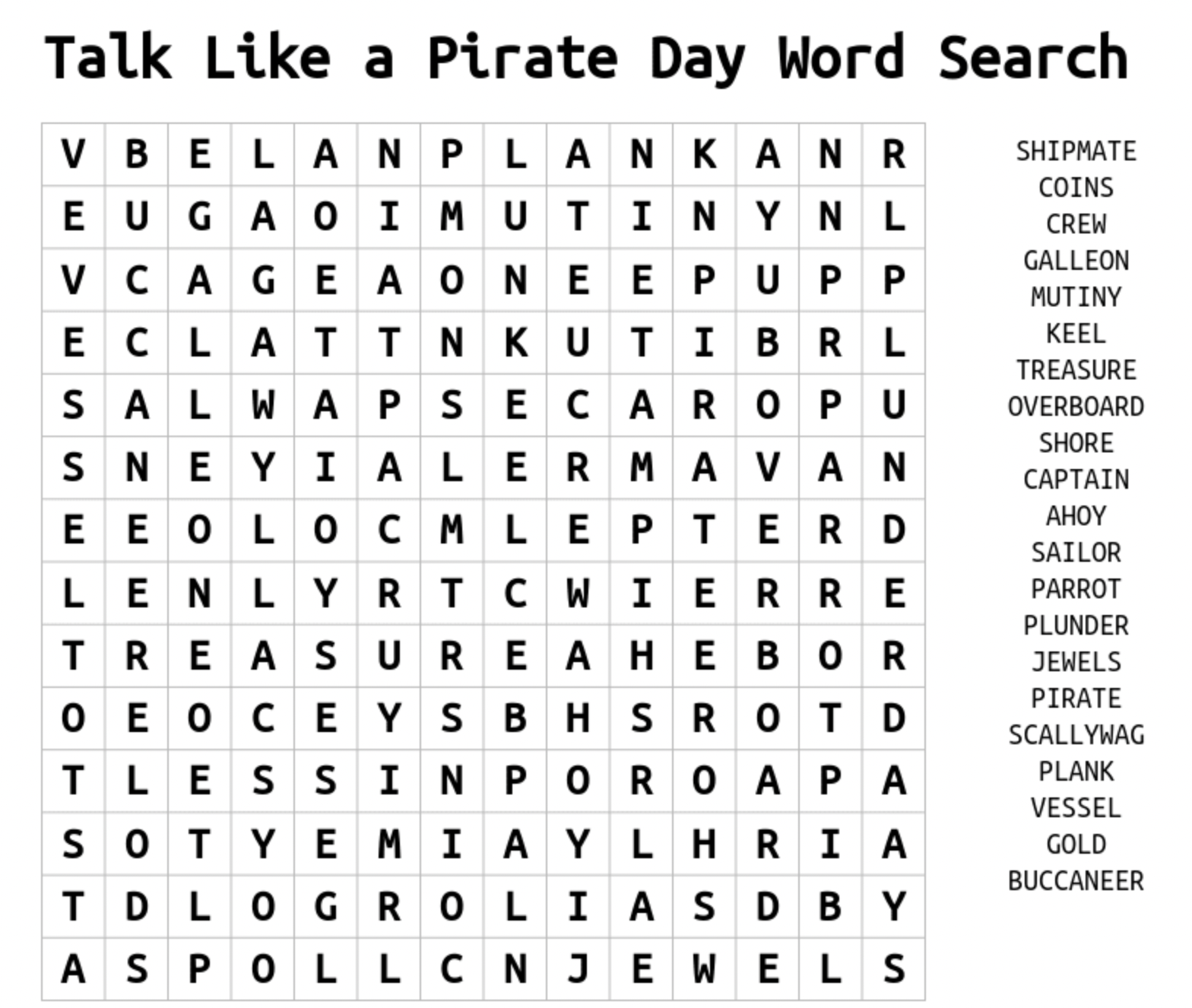 5.) Dress up, even if it's just a bandanna and a giant hoop earring. Bonus points if you can find a stuffed parrot to sit on your shoulder!
6.) Head to Long John Silver's for free food. Buccaneers and their mates can get a free piece of fish for talking like a pirate or a free two-piece Fish Basket for those who have dressed the part. Pirates docked at home have an "oppor-tuna-ty" to receive a digital gift card by posting a picture or video of themselves dressed like a pirate (account must be public; tag Long John Silver's on Facebook, Instagram, or Twitter).
Participating locations only. Call your nearest location to confirm.
7.) Learn all the lyrics to "Yo Ho (A Pirate's Life for Me)." Sing this shanty loudly and off-key! Start the following video at 2:35 for the lyrics with music.
8.) Have a dance party in your living room with this Spotify Pirate playlist.
9.) Family movie night! Snack on some Pirate's Booty while watching a pirate show like Captain Jake and the Never Land Pirates, Hook, or any film in the Pirates of the Caribbean series.
10.) Make an easy Pirate Ship Craft using supplies you probably already have on hand.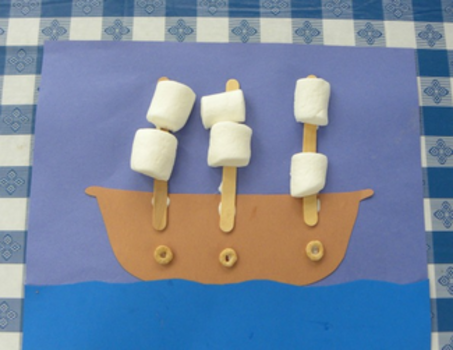 11.) Dig for buried treasure you create out of Plaster of Paris.
12.) Giggle. Come up with as many "AAARRR" jokes as you can, like ...
How come the pirate walked to school?
Because he didn't have a CAAARRR!
Why didn't the pirate's kid see the movie?
Because it was rated AAARRR!
How was the pirate's golf game?
Three under PAAARRR!
---
For more ideas and pirate fun, visit The Original Talk Like a Pirate Day site.